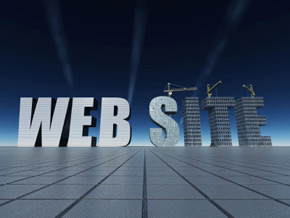 What do you want people to do when they come to your website? The "call to action" should be clear and simple. Do you want them to call you, email you or fill out a form? The means to do so should never be more than a click away. If you want them to buy your product, is the process a simple one? Your website should not be a maze. The paths should always be clear and simple.
At Internet Media Technologies we become your business partner. We will help you reach your customers and provide you with a professional image on the web. Our professional designers and programmers will work with you until you're satisfied GUARANTEED!
Take a look at our portfolio then give us a call. We'll be happy to give you a written quote and supply your company with references whom you can call and speak with.
If you do not not choose a web designer carefully, much money and time can be wasted. At IMT we have heard our share of horror stories of expensive, bloated websites that failed because of unintelligent design. . .
Because the Internet is a valuable business tool, our designers think like business owners. They understand that for most businesses, a website must do five primary things:
Find and target your market on the Web

Represent your company in a professional manner

Get your message across clearly

Make relevant information easy to use and find

Give potential customers a clear, easy way to contact you or buy your product
In choosing a web designer, ask yourself the following questions: Do they understand how design can affect website popularity in search engines? Does their portfolio show websites that I find easy to navigate? Is it easy to read information on their websites? Does the design show a clear understanding of the audience? Do I find myself getting impatient with slow loading graphics and useless animations?
In order for your website to be useful, it needs to be easy to find. That usually means making sure that the web design meets the requirements of major search engines. A good web designer has a solid understanding of search engine requirements and a proven ability in designing websites that work well in them. The designer should be able to suggest ways to fine tune your content so that search engines will index it properly under relevant keywords or phrases.
Good web design for most businesses means good information design. Information regarding your message or product must be easy to find and read. Good web design never overpowers or distracts from the information people are looking for. Rather, it supports your message and serves to improve its clarity and impact. Also, good web design is focused on simplicity. Clear, easy to navigate pages can be a competitive advantage that makes you stand out in the Internet. Navigation should be consistent from page to page and easy to figure out. Information should not be muddled by odd colors or graphics.
Good web design is, in most cases, simple web design. Slow loading graphics and annoying animations can kill a website. The Web is not a toy for most potential customers. They are on your site for information to assist in making buying decisions. If you make them wait for the information with slow loading pages, they will go to another site. A good web designer knows when enough is enough. They do not add useless 'bells and whistles" simply because they can.
At IMT our designers will design a site that properly portrays your company and at the same time gives you a fantastic look. Bells and whistles are fine when used properly. We feel your customer is your best asset and we'll let them know you mean business.