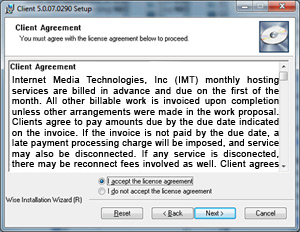 I. BILLINGS AND PAYMENTS
Internet Media Technologies, Inc (IMT) monthly hosting services are billed in advance and due on the first of the month. All other billable work is invoiced upon completion unless other arrangements were made in the work proposal.
Clients agree to pay amounts due by the due date indicated on the invoice. If the invoice is not paid by the due date, a late payment processing charge will be imposed, and service may also be disconnected. If any service is disconnected, there may be reconnect fees involved as well. Client agrees to pay such fees.
Clients who need the invoice mailed to them through the Postal Service need to notify the Accounting department at Admin@imtmail.com.
At any time all clients may access our secure online form to set up or change a credit card on their account.
II. CANCELLATION OF SERVICE
Client must notify IMT in writing for cancellation of hosting services. Notice must be received 30 days prior to cancellation date. It is the responsibility of the Client to move the site and request the domain name transfer. If the Client's account is up to date, the site will remain on IMT servers until the end of the month. At that time the site will be removed from IMT servers, which will remove it from the internet. If necessary, IMT can provide the services needed to move the site and domain name for our standard hourly technical fee. A copy of the website may be obtained within thirty (30) days after cancellation for a fee.
III. WEBSITE DESIGN
All content including but not limited to pictures, graphics, text and movies is the responsibility of the client. Client agrees not to hold IMT responsible for any copyright infringement.
IV. CHANGES/UPDATES TO WEBSITES
All web site changes or email changes must be submitted in writing. If the changes are included in the monthly hosting as normal updates, no charges will be incurred. For any additional work requested a proposal for the work will be sent to the Client for review and signature for charges over $200.00. All work that is under $200.00 will be done and billed to clients account unless client requests otherwise.
Changes submitted that are not typed will not be accepted. IMT is not responsible for any information changed on the site that is later deemed by the Client to be incorrect. Client should allow a minimum of three (3) business days for normal updates to be made to the website.
Any pictures to be included or changed on the website should be emailed to IMT. This enables IMT to crop, adjust, sharpen, and otherwise enhance the quality of the photos before they are placed on the website. Photos of products should be taken against a contrasting background, preferably white or black, which can then be changed to coordinate with the colors on the website.
V. CHANGES/UPDATES TO CLIENT DATA
IMT sends all notices concerning accounts via email. Client should notify IMT of any changes to contact information by sending an email to Admin@imtmail.com. This includes mailing address, phone number, email address, contact person, and credit card on account.
VI. REFUND POLICY
Each month of hosting is paid for in advance and begins upon the purchase of your account. Cancellation of your hosting account will discontinue all future billings. A 30 day notice is required (see Customer Agreement # II above). Hosting fees are non-refundable.
THESE TERMS AND CONDITIONS APPLY TO ALL SERVICES PROVIDED BY INTERNET MEDIA TECHNOLOGIES, INC.